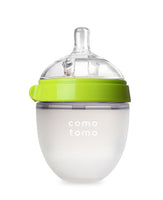 Introduction
Our bottle is designed to mimic breastfeeding to help babies easily transition back and forth from nursing to bottle feeding. It's rescued so many families dealing with 'nipple confusion' and 'bottle rejection' that our Comotomo mama's coined the term "Breastfeeding in a Bottle!"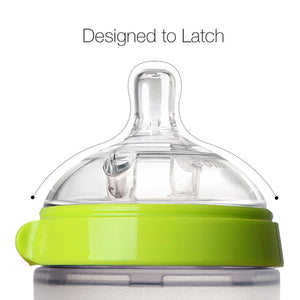 The End of the Bottle War
We surveyed over a thousand moms and nearly half responded that 'nipple confusion' and 'bottle rejection' was a big issue. Our bottles are designed with a wide mound and a naturally shaped nipple to help your little one make a seamless switch from breast to bottle and back to breast.
Prevent Unwanted Colic
We've designed two anti-colic vents that are smartly placed on the nipple to ensure that your baby's bottle is perfectly ventilated. This means that your little one drinks milk and not air. Good airflow helps to prevent unwanted colic, spit up, burping and gas. 
Soft and Squeezy
Babies love to squeeze, and it's very natural to them. So, we used a soft, skin-like silicone material to offer a soothing, calming touch, and better grip that they can't get from hard bottles.
Easy to Clean, No need for bottle brush!
Our bottles feature a super wide opening so that you can easily clean them by hand. Plus, our bottles are very heat-resistant (more heat resistant than Plastic or PPSU).
We encourage the following methods for sterilising your bottles:  
1. Boiling water - place in boiling water for 5 minutes.
2. Steam Sterilisers
3. Microwave -  If you are using microwave steam bag sterilizers, please follow the instruction provided in the packets.
4. Dishwashers (top-rack only, avoid being too close to heating coils).
5. DO NOT USE UV to sterilize your bottles.
(Overexposure to UV may generally lead to faster material degradation. You may use UV on nipples/teats and teethers only.)
AWARDS and MENTIONS